It is not long now until some of us descend onto the hallowed fields of Catton Hall for Bloodstock Open Air 2019. Not only are there many, many bands of various sub-genres of metal, but there is also a bunch of things to do and see when there isn't anyone on you want to see, or maybe you just need to rest your neck from headbanging too much!
If you haven't already bought your tickets, please consider using my Fanshare link here.
If you're more interested in WHO is playing, check out my Ronnie James Dio stage preview here, my Sophie Lancaster stage preview here, and my Hobgoblin New Blood and Jagermeister stage preview here.
Please also check out my Bloodstock Festival 2019 playlist here where I have put together a couple of songs from (almost) every band playing!
Things to Do
If you ever need to escape the madness of the crowds, there are plenty of other things to do at Bloodstock Open Air this year. Here are just a few of the usual alternatives to heading for the pit, but there are more (including a festival-approved way of running into each other WITHOUT the use of large industrial bins…)
Food
At Bloodstock, there is always a large variety of food stalls which serve almost everything you can think of. They also cater to many different dietary needs, so no one is going to starve. I have tried a lot of stalls over the 4 years I have attended the festival, and my personal favourites are Bunny Chow (chilli in bread which fills you up for hours), the burrito stall (again, will fill you up for hours), and the Hippy Chippy, which fulfils all your carby needs when you start to feel a little bit squiffy.
Drink
Once you've had your fill of food, you're obviously going to want to have something to wash it all down with. There is one main bar in the arena, named the Lemmy Bar after the loss of the rock 'n' roll legend Lemmy. Here you can purchase a range of pints of various liquids, as well as spirits and non-alcoholic drinks. There is also a bar in the Sophie stage tent, selling similar products, and several sponsored bars around the arena with Captain Morgan's rum, Bulleit Bourbon, and Hobgoblin. You can even chill out with a mug of tea at Motley Brew!
If you're lucky enough to have a VIP, hospitality pass, Rock Society membership, or press or band passes, you will be lucky enough to sample the over 150 ales and cides available at the VIP bar. I am lucky enough to be a Rock Society member this year so am able to treat myself to a few halves of dark ale, and maybe finally try this mango cider everyone raves about! There are also proper toilets in the VIP area, so if you're still camping with the plebs in standard, you can enjoy flushing toilets and running water during the day.
Strongman and Strongwoman
As always at Bloodstock this year, there is a separate area near the entrance to the arena where this year once again there are strongmen and strongwomen competitions over the whole weekend. This year it is sponsored by Vicky and Alan's clothing company Heavy Metal Lifting Club, who produce and sell clothing for the gym loving metalheads out there. It's a chance to get away from the madness of the music crowds and watch some strong people lift some heavy things.
Shopping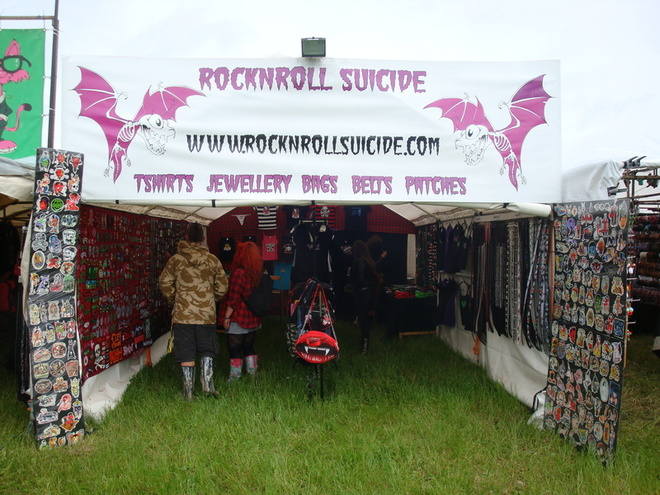 As with any festival, there will always be opportunities to buy lots of other metal related wares. From all those novelty hats you see, to piles of band patches, to clothing and accessories, there is plenty to have a browse through and spend your hard earned money on. If you see a stall you like but have no cash left, take a photo or see if they have a card you can take away so you don't forget that awesome stall you found! I'm not a big shopper, but I do find myself spending my down time browsing the stalls in case I find a cool patch I've been looking for, or I find that one thing I've had in my mind for a while that I've wanted.
RAM Gallery
No weekend at Bloodstock Festival is complete without taking some quiet time out and browsing some of the amazing artwork out there. Bloodstock founder Paul Gregory has created many of these works, including the epic canvases that usually dominate the two shorter walls, which are seen to be worked on over the years, adding more characters and detail. There are also the logos from each Bloodstock Festival since its inception in the Derby Assembly Rooms back in 2001, right up to last year's festival, which are all signed by the bands performing that year. There is also some amazing album artwork and live photography.
Festival Advice
As an end to this series on Bloodstock Open Air 2019, I thought I would give some veteran advice on attending the festival, under the assumption you're also camping and staying the full weekend (although some of this stuff will also be relevant for anyone on a day ticket too).
Set up your tent BEFORE you get drunk. Drinking in the queue might be fun, until you pass out on a half upright tent and find yourself in a puddle of rain soaking wet and with a banging hangover.
STAY HYDRATED! Take a refillable bottle with you to take to the arena. There are plenty of water points to fill up for free. And if you're not a fan of plain water, take some super concentrated cordial to drop in.
PREPARE FOR ALL WEATHERS. It's the UK, the weather is pretty unpredictable. Pack for hot, cold, sunny, rainy, windy weather, and you'll be fine. Rock those wellies with your crop top and booty shorts!
EAT REGULARLY. It's easy to forget to eat at a festival and head straight for the bar. Get your stomach lined with food before heading for that next pint.
CHECK OUT UNKNOWN BANDS. Go and see at least one band over the weekend you haven't heard of before. Maybe you like their logo, or maybe there's just nothing else happening at the time. You might discover the next big thing, or expand your musical taste!
LOOK AFTER EACH OTHER. Whether you knoew them or not look after people. If a woman is looking uncomfortable with a male, check if they're ok. If a guy is on his own and looking like he could use someone to talk to, go and start a conversation. In the pits, help each other up or get out. Keep an eye on your camp neighbours. Just be a nice human being.
TAKE A MINI FIRST AID KIT. At the very least, take some painkillers, plasters, suncream, aftersun, and anti-septic gel. If you don't need them, someone else might.
WRAP IT UP! If there's a chance you might get cosy with your partner, or find someone to keep your tent warm for you, be safe. Wrap that before you tap that.
SET A BUDGET. Work out how much you can spend at the festival. Budget for your food, drink, merch, treats, and emergencies.
MOBILE DATA DOESN'T ALWAYS WORK. Bloodstock is one of those festivals where data signal is very hit and miss (normally a miss from me). So make sure you have mobile numbers of friends so you can get in contact even if you have no data to use Whatsapp or Messenger.
I am so, SO excited about this year's festival. I'm getting myself prepared, and looking forward to a long weekend away with music, friends, and fun in one of the best places in the world! If you see me there, I will be shy but come and say hello if you want, it would be great to meet new friends!